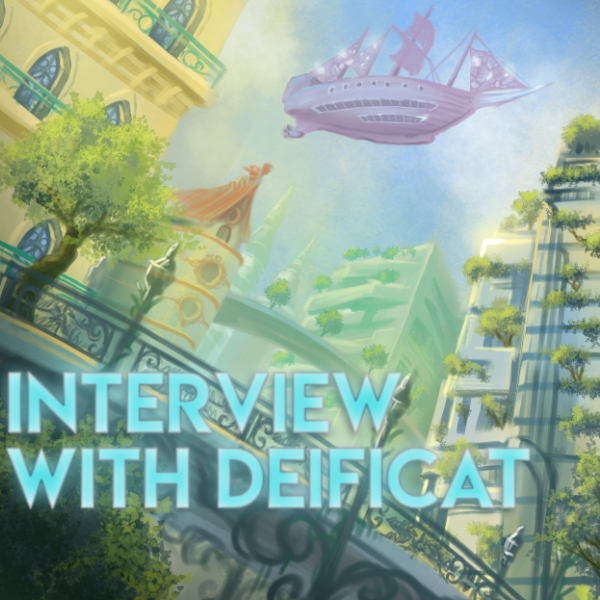 Hello, Worldbuilders!
We got a chance to talk with our artist deificat about the cover they illustrated for our Technology issue! Our artist deificat also did as the artwork for our "Punkography" article in the latest issue, as well as the cover art for our Magic issue in December 2018. Since October, deificat has helped us illustrate the magazine and bring life to the pages. If you would like to see more, follow deificat's work on Instagram, Facebook, or Twitter.
This interview has been edited for clarity and conciseness.
What were your inspirations for the cover?
The WBM server has a bot named Ressa, who keeps track of our events and gives out some roles, and the inside joke is how Ressa will eventually take over. When Hikitsune-Red suggested that someone do Ressa coming to life, I bit on the idea. I was planning to include her in my proposal anyway, but after that I decided to make her the highlight.
What was your process for putting it together?
When I make a cover, I always default to a character looking at the reader. The cover has underwent three different concepts that depicted their own stories. Each one was submitted for scrutiny by the staff on which one worked best.
The story for this concept is that a space station has been destroyed, but by whom or what is left to the viewer to decide. I explicitly left Ressa's role in the story to be determined by the readers. The backdrop of the scene is the setting of the ongoing WBM world collaboration: one gas giant and four habitable moons. I arranged it in a way that adds a great depth to the piece.
The colors of the character are pre-determined. Ressa is based on a red panda, so those colors were taken into consideration and used against a slate gray of the suit. The colors used for contrast were purples and blues of the background.
What is it like working on something that is the first thing people see when they get the issue?
There is a lot of pressure to put your best foot forward. This cover consumed an entire week of my free time, that's like the longest I've spent on a single piece!
I usually go with the first idea that comes to me and see it through, but this particular piece has taught me a lot of things. With this issue, I explored a lot of features of Krita (the program used to create this piece). I would say it was a blast learning. This is the major reason I decided to contribute to the magazine as an artist anyway: to practice digital painting.
Do you have any advice for other artists looking to hone their skills and/or have their art as the cover?
If you're looking to improve your craft, any craft, spend time on it and practice. Join a community that would put deadlines, commitments, and pressure to improve your craft and seek out critique. Plot your weaknesses and address them. This especially works if you like procrastinating like me!
---
Thanks to deificat for doing this fun little interview for the process behind the Technology cover! Submissions for Gender and Relationships has ended, but you still have plenty of time to work on Geography (due June 12th) and Economics (due early August) related content! If you're interested in creating art for the magazine contact us at contact@worldbuildingmagazine.com or if you would just like to share your work fill out the form here for a chance at doing one of our art showcases!
Want more updates? Be sure to follow us on Twitter, Instagram, or Facebook! Want to connect with our staff? Hop on our Discord server and tell us all about your world!
Sign up for fresh issues, straight to your inbox, by entering your email in the box on the homepage!
Happy worldbuilding!