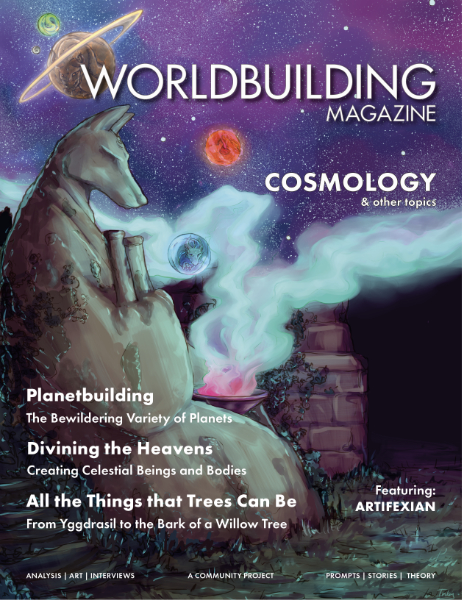 Hello, worldbuilders!
Worldbuilding Magazine is proud to present our June 2021 issue: Cosmology. We've taken a step back from our usual in-depth look at the details of worldbuilding and this time we're talking about the cosmos. For some projects, designing the deities, creation story, or the position of the stars can be massively important. In this issue you can find:

Five new articles discussing creation stories, celestial beings, and more! Plus, a new short story by Ike Riva.

An interview with Artifexian, the host of the YouTube channel of the same name.

Plus, your questions answered in our Ask Us Anything column!
If you enjoy this issue or have any comments/suggestions, please leave us feedback using the form linked below. Also, if you would like to help us write, edit, illustrate, or otherwise produce the magazine and podcast, email us or inquire on our Discord community! We're always looking for new volunteers to help make this project happen!
Special thanks to the writers, artists, editors, and everyone else who makes the magazine and podcast possible. We couldn't do this without you. And to those of you who read or listen to us—we hope it helps you worldbuild some truly awesome settings.
Happy worldbuilding!
-the Worldbuilding Magazine team
Apply to be featured in a future World Showcase Interview >>