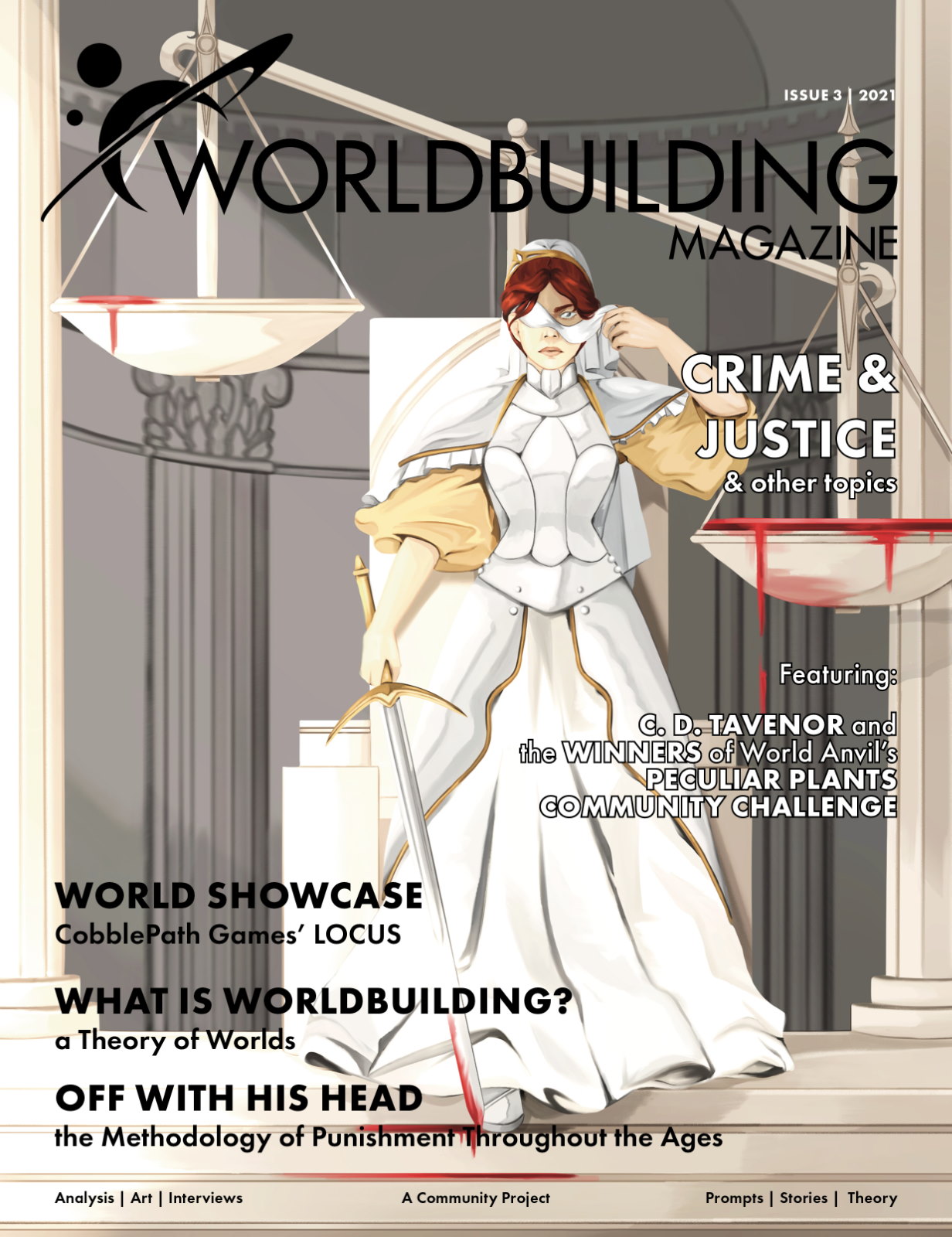 Hello, worldbuilders!
Worldbuilding Magazine is proud to present our September 2021 issue: Crime & Justice. We're taking an objective look at systems of law, punishment, and some of the things that surround them in this issue. Plus, we've got the winners from World Anvil's latest challenge and new interviews:
An Update from Worldcasting
Season 4 of Worldcasting is in production (and it's going to be amazing)! While we're preparing for an early 2022 release, you can catch up on episodes that you missed! In past episodes we were incredibly fortunate to feature guests such as author Michael J. Sullivan, author and YouTuber Daniel Greene, founder and creative director of the Dominican Writer's Alliance Angela "Angy" Abreu, plus several members of the Worldbuilding Magazine staff!
Worldcasting is available to listen on Anchor, Apple Podcasts, Castbox, Google Podcasts, iHeart Radio, Pocket Casts, Radio Public, and Spotify.
Join Worldbuilding Magazine & the Worldcasting Podcast
Our Discord community is filled with awesome worldbuilders like you! Come on by and get involved in the conversation, or take part in our weekly Worldbuilding Wednesday prompts!
If you enjoy our work and want to help us continue making it, ask about volunteering with us! We're always seeking new people to help us write, edit, illustrate, or otherwise produce the magazine. If podcasting is more your thing, ask about how to get involved with audio editing! Email us or inquire at our Discord server.
If you're more interested in appearing in an upcoming issue of Worldbuilding Magazine, aside from submitting an article or story, there are a lot of ways to get involved! We have open applications to be featured as a worldbuilder or worldbuilding artist, which take just a few minutes to fill out. Each issue we try to feature one of each, so tell us about what you're working on and maybe you'll be next! You can find the forms here.
Special thanks to the writers, artists, editors, and everyone else who makes the magazine and podcast possible. We couldn't do this without you! And to those of you who read or listen to us—we hope it helps you worldbuild some truly awesome settings.
Happy worldbuilding!
-the Worldbuilding Magazine team
Apply to be featured in a future World Showcase Interview >>