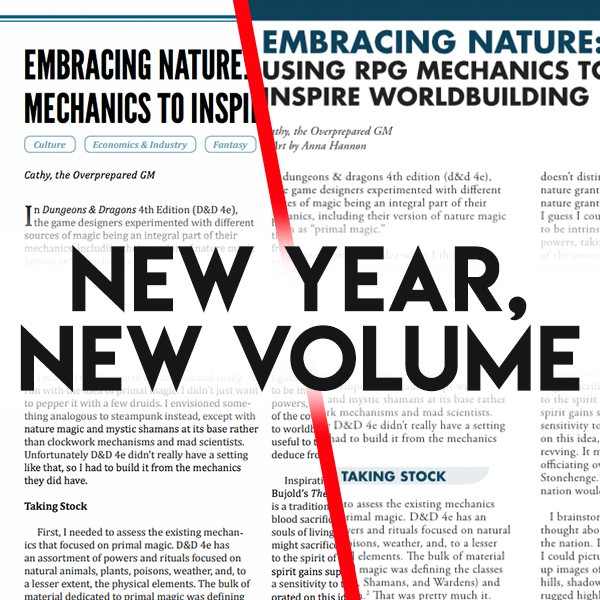 About three months ago, the magazine chief specifically requested I write a blog entry to keep you, our loyal readers, appraised of our progress. He…didn't ask me to do so again. However, it's the holidays. With the application of relatively modest amounts of alcohol, StronglyOPlatypus passed out, allowing me to steal his blog password invited me to write another a post. Woo hoo!
So, from me to you, Happy New Years!
On Death & Taxes
Our next issue is going to be on Death & Taxes, focusing on the constants in life. We took inspiration from the Benjamin Franklin quote "Our new Constitution is now established, and has an appearance that promises permanency; but in this world nothing can be said to be certain, except death and taxes." A peek at the Trello boards that track the development of different pieces shows…
Two interviews, one with Iron Compass Games and one with Tikal
Three thematically appropriate articles covering burial practices, toxicology, and death deities
A worldbuilder's guide to Mesoamerica
A detailed worldbuilding checklist
Excitingly, Death & Taxes will unveil the new design for Volume 3. The art department been updating the basic style of the magazine. It should still showcase the same great artwork and writing you've come to expect, but in a cleaner, brighter style. When it's finalized, we'll also update the web site to coordinate.
We have a couple weeks to finalize the drafts, and then they start chaining the artists to the desks again to get the magazine finalized.
Tristen, the Art Department Deputy Chair, says, "Good god, we don't chain artists to desks! What is Muroi doing in the writing department these days that you'd think that?!"
Sure, Tristen. Sure.
Behind the Scenes Changes
Moderation team. Until now, department admins have handled the moderation duties. However WithBestIntentions, our inestimable Meta Department Chair, has realized that this would mean I would get to judge appropriate behavior. In what she assures me is a complete coincidence, she quickly recruited an independent team of moderators, selecting for people with tact and judgement. She is currently supplying them with appropriate training. (Thanks, Intentions!) We'll let you know when they're ready to be released into the wilds of our Discord community.
Policies. The admin team has been working on codifying a variety of policies for things like privacy and copyright. Tedious compared to worldbuilding, perhaps, but important we as grow as an organization.
Social Media. We've been on Twitter, Facebook, and Instagram for a while, and we've just opened a new LinkedIn page. If you're on staff, add us to your resume! If you're not on staff, feel free to click on the page anyway and goggle in wonder at our illustrious staffing.
Want to make sure you don't miss an issue? Subscribe for free.