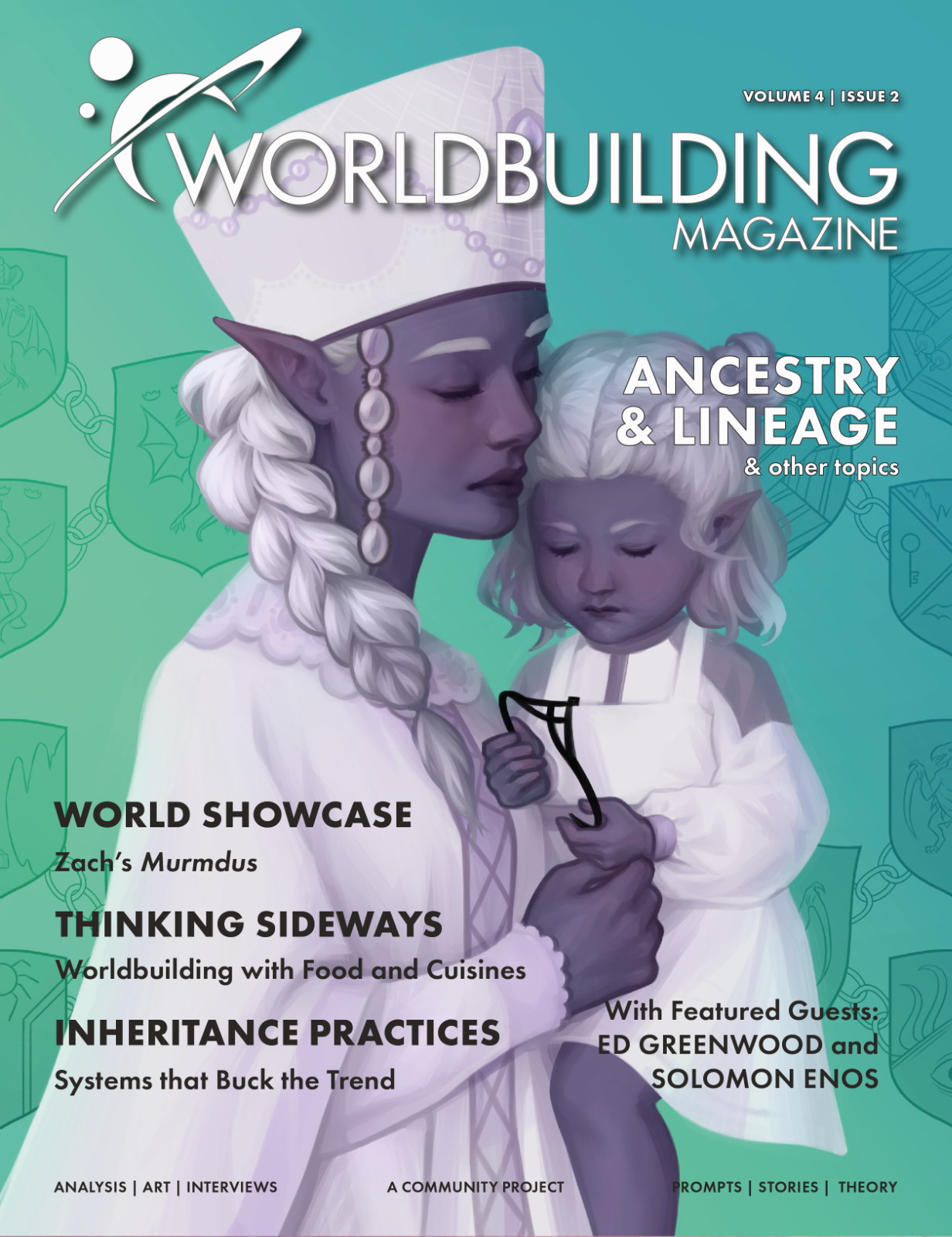 Hello, worldbuilders!
A short note before we jump into this release: these have been a strange few months/weeks for many of our staff at Worldbuilding Magazine, and no doubt it has been for you, too. We just wanted to take a moment at the top of this update to wish everyone well and encourage you to quarantine yourselves as much as possible. If you have the time, now's the perfect chance to reconnect with family and friends, start a new project, or just relax. It is our pleasure to provide a new issue of Worldbuilding Magazine for you to read and improve your projects and learn something new. We hope you enjoy Ancestry & Lineage:
Six new worldbuilding articles featuring discussions on worldbuilding with ancestry, family, and inheritance! Plus, a continuation of Thirty-Three Tales of War by Emory Glass.
An interview with Ed Greenwood, author and creator of The Forgotten Realms!
An interview with Zach, a member of our community who is creating the world of Murmdus.
An artist showcase with Solomon Enos, who spoke with us about his setting Polyfantastica.
Plus, more worldbuilding prompts, artist resources, and other extras!
This was a fun issue to tackle. Some of our staff even dug into their own family histories to interpret them through the lens of worldbuilding! If you enjoy this issue, or have any comments/suggestions, please leave us feedback via the form linked on the issue's webpage. Also, if you would like to help us write, edit, illustrate, or otherwise produce the magazine, please let us know via email or by stopping into our Discord server! We're always looking for new people to help make this project happen.
More Ways to Get Published by Worldbuilding Magazine
If you're interested in appearing in an upcoming issue of Worldbuilding Magazine, aside from submitting an article or story, there are a lot of ways to get involved! First, we have open applications to be featured as a worldbuilder or worldbuilding artist. Each issue we try to feature one of each, so tell us about what you're working on and maybe you'll be next!
Also, this year we've partnered with World Anvil to publish the winners of their contests. Starting in our next issue (coming in June 2020), you'll start to see that come to fruition, and there are more opportunities on the way! Watch the World Anvil blog and keep an eye out for new contests this year. Each one is an opportunity to have a piece of your world featured with us as well! And to get an edge in their competitions, feel free to read past issues of Worldbuilding Magazine. We think they're pretty good.
The Worldcasting Podcast
Have you tuned into our podcast, Worldcasting? If you can't get enough worldbuilding discussion, or need something to listen to while practicing social distancing, it's a great choice. All of season 1 is available on most podcast listening services (Anchor, Spotify, Apple Podcasts, Google Podcasts, Overcast…) with season 2 in development right now! Catch up before season 2 launches and hear from our staff, plus guests Phil Athans and Ed Greenwood—two experts working in the realm of role-playing games like Dungeons & Dragons.
Special thanks to the people who have made the magazine and everything else we do possible: to the dedicated staff, to the community contributors, and to all of you for reading. Be safe, and go worldbuild some ancestries.
Happy worldbuilding!
-the Worldbuilding Magazine team
Read Ancestry & Lineage now >>
Apply to be featured in a future World Showcase Interview >>