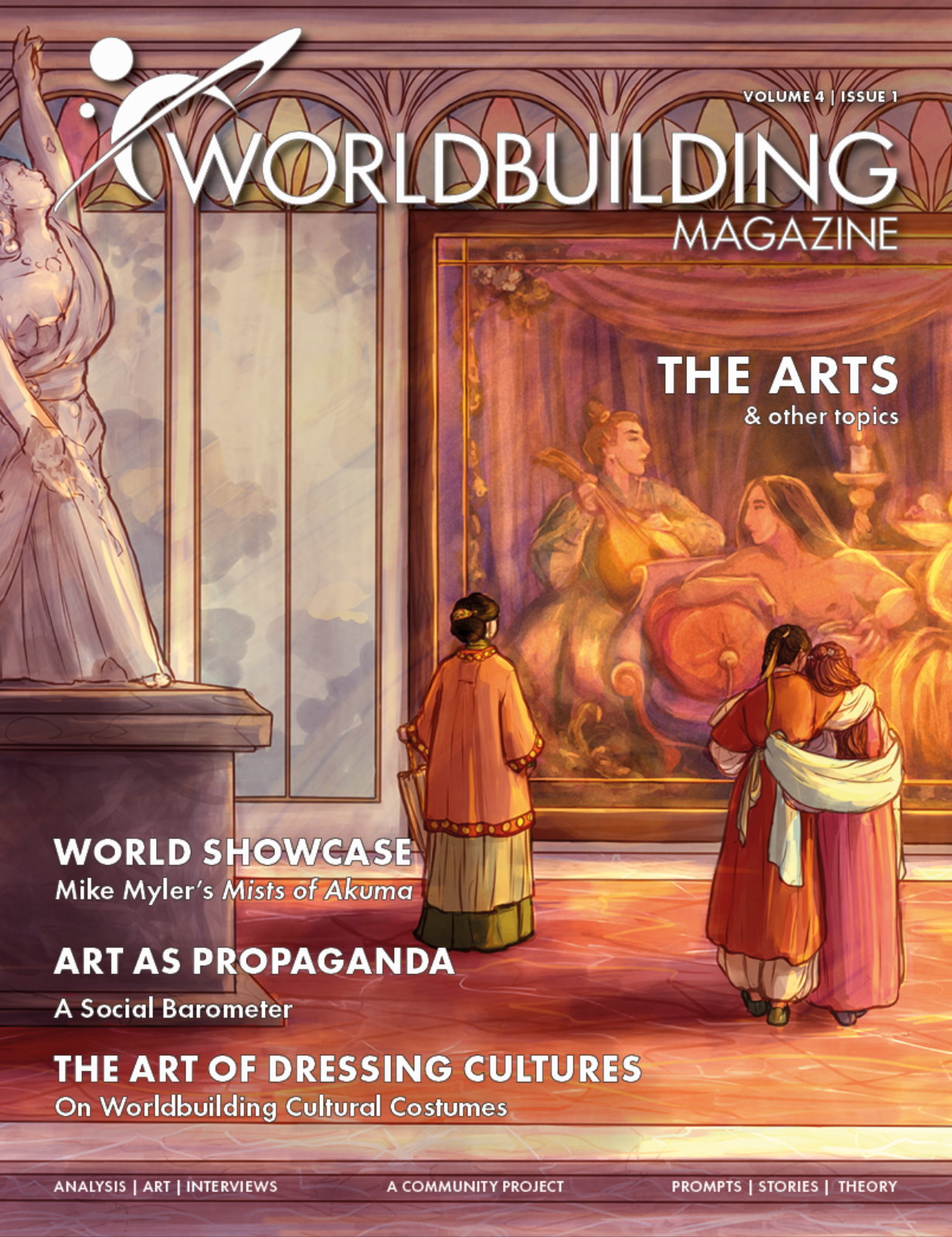 Hello, worldbuilders!
Worldbuilding Magazine is proud to present our first issue of 2020: The Arts. We've got articles on clothing, propaganda, artistic representation of religion, and much more! Seriously, it's our biggest issue ever. In this issue you can expect:
Seven new worldbuilding articles featuring topics of art, clothing, and magical crime!
Four new flash fiction stories from Emory Glass, a continuation of her series Thirty-Three Tales of War
An interview with Michael D. Nadeau, the fantasy and steampunk author behind titles such as The Darkness Returns and stories from the Kyanite Press Journal of Speculative Fiction!
An interview with Mike Myler, the mind behind Mists of Akuma, an intricate setting for tabletop roleplaying games.
An artist showcase with Kurt Ian Ferrer, an artist who combines 3D and 2D tools to create beautiful paintings.
Nearly 200 worldbuilding prompts, artist resources, and other extras!
In addition, we're releasing a new episode of our podcast Worldcasting with some additional discussion from our staff about this issue. You can listen in just about anywhere! We're on Anchor, Apple Podcasts, Google Podcasts, Spotify, YouTube, and more locations!
We're incredibly excited to kick off this new volume of Worldbuilding Magazine with our largest issue yet. We hope that you find it helpful in your worldbuilding. If you enjoyed it, or have any comments/suggestions, please leave us feedback on the form below. Also, if you would like to help in the production of the magazine or podcast, please let us know via email or by stopping into our Discord server!
Special thanks to the people who helped make all of this possible: to the dedicated staff, community contributors, and to all of you for reading.
Happy worldbuilding!
-the Worldbuilding Magazine team
Apply to be featured in a future World Showcase Interview >>