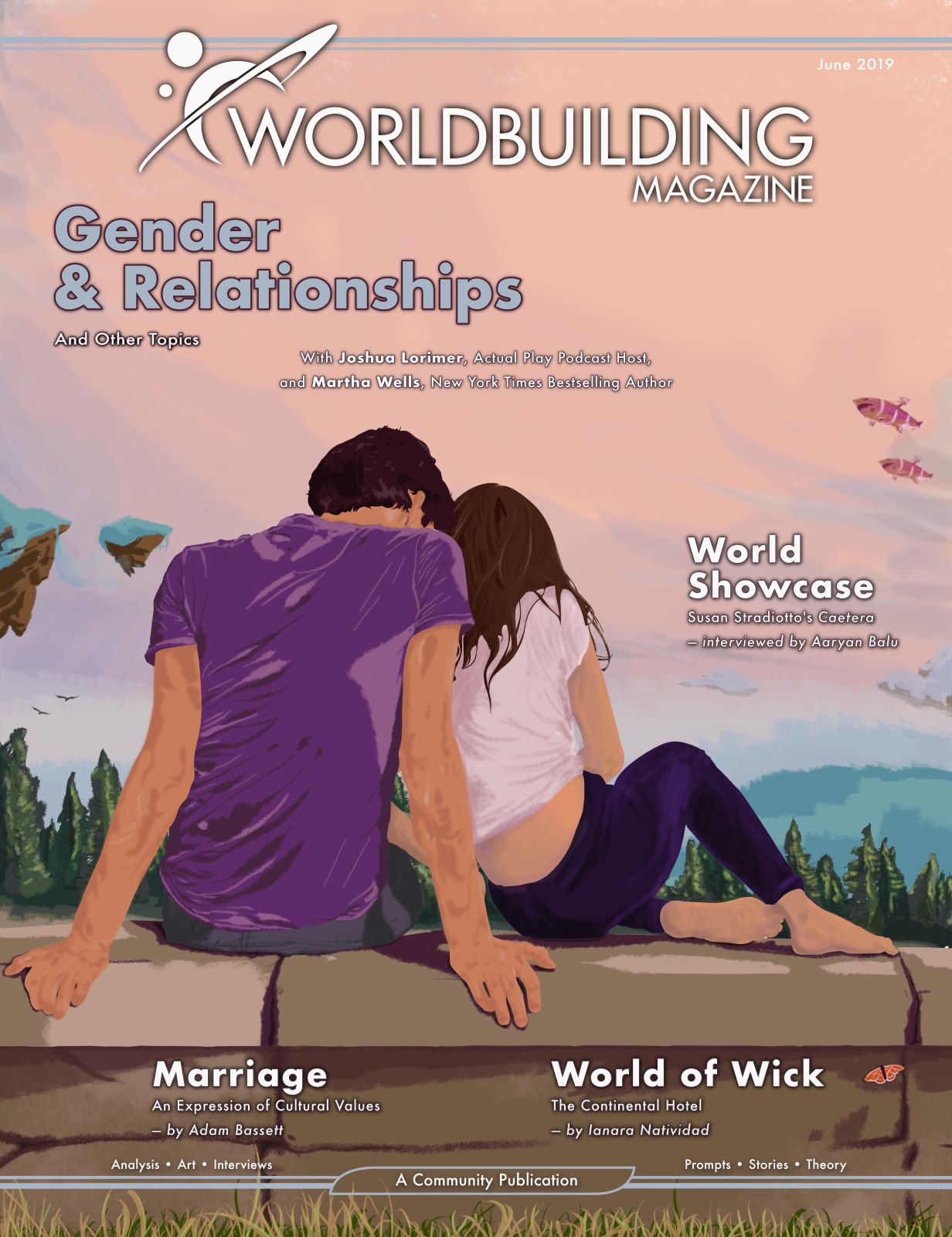 Hello, worldbuilders!
Worldbuilding Magazine would like to present our June 2019 issue: Gender & Relationships. This is a topic that many of us on the team didn't typically see much discussion about, but it's one that is very important. Family structure, designing aliens, and whole societies are influenced by answers to questions about gender and relationships. In this issue we tackled those very issues by taking a look at marriage customs, and building species with sexual dimorphism to name a few examples. One writer even takes some hobos to the stars! In this issue you can expect:
6 articles and a short story from one of our community members.
An interview with Martha Wells, NYT bestselling author of the Raksura and Murderbot Diaries series.
An interview with Susan Stradiotto, who gives us a tour of the world she's set her novels in.
An interview with Joshua Lorimer, cast member of the Sneak Attack! podcast, creator of The Titans of All'Terra podcast.
An artist feature with Jay Eaton, co-editor of Almost Real Magazine and speculative biologist.
New prompts and other extras!
We hope that you find this issue helpful in your worldbuilding. If you liked it, or have any comments/suggestions, please leave us feedback on the form linked below. Also, if you would like to help in the production of the magazine, please let us know via an email or by stopping into our Discord server! We're always looking for new artists, editors, writers, and other organizational help.
Special thanks to the people who helped make this issue possible: to the dedicated staff, community contributors, and to all of you for reading.
Happy worldbuilding!
-the Worldbuilding Magazine team
Read Gender & Relationships now >>
Leave feedback for this issue >>
Apply to be featured in a future World Showcase Interview >>