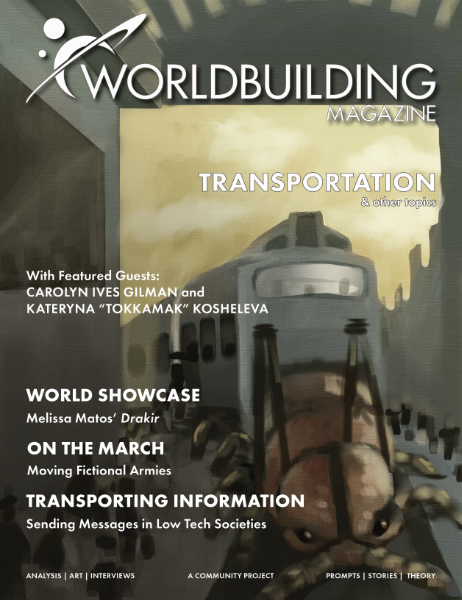 Hello, worldbuilders!
Worldbuilding Magazine is proud to present our October 2020 issue: Transportation. Inside, we take a close look at the many ways transportation has mattered to society—such as in warfare or delivering messages—and consider how we can make transportation matter in our own settings. Additionally, we've got winners from World Anvil's "History Challenge," and new interviews featuring historian and author Carolyn Ives Gilman, artist Kateryna "Tokkamak" Kosheleva, and author Melissa Matos.

Four new worldbuilding articles featuring discussions on worldbuilding with travel and transportation. Plus, five new short stories which continue Emory Glass' series Thirty-Three Tales of War!
An interview with Carolyn Ives Gilman, a historian, museum consultant, and award-nominated author of science fiction and fantasy titles such as Dark Orbit, the Forsaken Series, and most recently Exile's End.
An interview with Kateryna "Tokkamak" Kosheleva, the illustrator and writer of the in-progress graphic novel For Their Own Good.
An interview with Melissa Matos, author of Song of the Wild, about the setting she has created for her book.
Plus, more contest winners from World Anvil, your questions answered in our Ask Us Anything column, and other free-to-download resources!
If you enjoy this issue or have any comments/suggestions, please leave us feedback using the form linked on the issue's webpage. Also, if you would like to help us write, edit, illustrate, or otherwise produce the magazine and podcast, email us or inquire on our Discord community! We're always looking for new volunteers to help make this project happen!
Special thanks to the writers, artists, editors, and everyone else who makes the magazine and podcast possible. We couldn't do this without you. And to those of you who read or listen to us—we hope it helps you worldbuild some truly awesome settings.
Happy worldbuilding!
-the Worldbuilding Magazine team
Apply to be featured in a future World Showcase Interview >>